Direct contact:
0162 386 890
Nederland - lokaal tarief
Bezoek\afhaal adres:
De Slof 6
5107 RJ
Dongen
Project DC5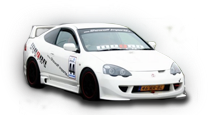 Welkom bij Honda Performance.
Honda Performance bundelt een groot assortiment van Honda onderdelen zodat jij deze snel kunt doorzoeken. Om snel te vinden wat je zoekt gebruik je de filters aan de linker kant. Als je gevonden hebt wat je zoekt, kun je direct afrekenen in onze webshop.
Team Showoff Imports
.
Producten
FILTER:
Je bekijkt nu producten voor het model
Rsx en je ziet

alle merken

.
Honda Civic 01+ 2/4D & Integra DC5 / RSX Short Shifter [SIX] Short shifter adapter block. This will exchange your original shifterbase adapter resulting in the car having a shorter shift feeling. Installation help: http://www.neuspeed.com/data/installs/66.20.77.pdf
#207929
Nu slechts:

€ 25,00
Megan Racing Performance Lowering Springs are constructed of SAE 9254 Cold Wounded Steel, one of the strongest materials available. The high tensile strength and phosphate powder coating delivers outstanding spring rates that are extremely durable and resist premature "sagging".
The result is a spring that specifically offers racecar handling, yet maintains smooth and comfortable ride characteristics. Carefully matched springs rates provide exceptional handling, response, control and balance. These springs offer a generous drop to your car while remaining very "streetable" by having enough clearance to avoid bottoming-out, and the lowered center of gravity improves performance and increases stability, as well as enhancing the appearance of the vehicle. (Note: Spring rates and drop amount vary by different vehicle application and chassis load.)
Spec:
- Color: Orange
- Lower rate: 2" Front, 1.7.5-2" Rear
- Springs rate: 300F & 250R
-
#207152
Nu slechts:

€ 119,40